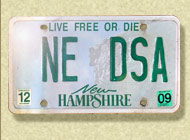 Dragonfly Society of the Americas Northeast Regional Meeting
Salem, New Hampshire, July 30 - August 2, 2009

My expectations were low for this meeting. Pam Hunt and Bryan Pfeiffer, the organizers of the weekend, said that this was an exploratory meeting, one where they hoped to check out some new locations and fill in some blanks for the New Hampshire survey. However on the list of hoped for species that they put out, there were a handful that intrigued me enough to write to them and ask what our chances were for finding them.

Two of the species were hanging clubtails, Stylurus, Arrow Clubtail, S. spiniceps and Riverine Clubtail, S. amnicola. Both had been found on the Merrimack River, the records mostly from exuviae as finding and catching adults is typically difficult. Pam described Arrow Clubtail as a trash bug so the chances should be good. However in this summer of the endless rains would the river be too high?

Another species was Incurvate Emerald, Somatochlora incurvata. It had been recorded once in the area of the meeting. This is usually a more northernly bog species and no one was sure where it came from. Chances seemed low.

The most intriguing of all was Coppery Emerald, Somatochlora georgiana. It had been collected at one location 2 or 3 years ago (same place and time as the lone Incurvate Emerald) but no one had been back to the site since. I was not very optimistic. I had just looked for it in Rhode Island at seemingly the most reliable location for Coppery Emerald anywhere. I saw one or two flying high but could not catch any. Pam put our chances at fifty-fifty, good enough to hope.

Thursday, July 30: I took my time getting up to New Hampshire, a fairly short drive compared to many I have taken the last couple of years. I got to the Kingston town park at 3 pm. I parked the car by a playground and across from me was a ballfield which I assumed was the soccer field that Pam described, the place were Coppery Emerald was found. It was sunny and hot, and I doubted anything would be flying in the open. Still I crossed the rough dirt baseball diamond onto the grass in the outfield. Indeed nothing was flying but it was early and I headed for the shade of the trees.

The park had a number of trails through open woods and fields. There was a dog park and a compost heap. I found a little shaded stream and on it a couple of emeralds flew territorially back and forth low over the water. They were green eyed and dark, not Coppery Emeralds. I netted one, a Mocha Emerald, Somatochlora linearis. As the afternoon wore on, it became evident that there were quite a few dragonflies around. There were more Mochas but most were mosaic darners, Aeshna popping up in good numbers. I quickly caught Black-tipped and Lance-tipped Darners, Aeshna tuberculifera and constricta, including the females I needed. Late in the afternoon a large group of dragonflyers had arrived at the park. On the ballfield, someone in the group had netted a Coppery Emerald.

Hal White let me scan the female Coppery Emerald he caught. Thanks Hal. There were a few other emeralds flying that were probably georgiana but no others were netted that evening. But the dragonfly activity was wonderful especially in this poor year. Over the compost pile, darners thickly swarmed, deftly feeding and dodging our nets.

Friday, July 31: The first official day of the meeting began back at park in Kingston. The weather forecast was not good and clouds began to gather throughout the morning. There were more Mocha Emeralds and darners. I sampled the local Meadowhawk, Sympetrum which turned out to be Cherry-faced, internum. Mike Veit caught a Williamson's Emerald, Somatochlora williamsoni. Then we lost the afternoon to rain.

Saturday, August 1: I rode with Bryan Pfeiffer and Mike Blust much of the day so don't have a good handle on the locations we tried. We didn't see a whole lot. Catching a female Brush-tipped Emerald, Somatochlora walshii and a female Racket-tailed Emerald, Dorocordulia libera were the highlights of a slow day. Scarlet Bluet, Enallagma pictum was a life damselfly for a many in the group.

We gathered at Kingston State Park at 5 PM for a barbecue dinner. It was a pleasant enough park but I was a little anxious to get back to the Kingston ballfield. I ate quickly and left after the group picture. When I got to the field and the adjacent road at 6 PM, the dragonflies were already swarming. Dozens of darners flew low over the road while others flew high against the sky. I quickly caught a couple and one was a female Mottled Darner, Aeshna clepsydra which I needed. There were some emeralds flying high, darker and slimmer than the darners. The large ones I presumed were Mochas. But over the road flew a few smaller emeralds and these were likely Copperys. They flew back and forth occasionally chasing and being chased by other dragonflies. Once in a while one might dip lower but none came close to me as I staggered back and forth trying to close the distance. Although the swarm swirled around me, my focus was locked on the small emeralds and I wondered where everyone else was.

Soon other people started showing up. "Up there," I said, "those small ones, those are georgiana!" I had been following them for about ten minutes. Then one swooped low over the head of Tom Young and he swung and caught it. A miracle. A beautiful male Coppery Emerald. Best yet, he let me keep it. Thanks Tom.

One more Coppery Emerald was caught that evening, another female by Dave Small. He also let me have that one. Thanks Dave. I'm extremely grateful for these specimens. Coppery Emerald had become a personal unicorn and to have them in the hand was amazing. I never came close to netting one myself and had they not been captured, I would have kept heading out to that field night after night. It's good to have forty nets in eighty hands.

Sunday, August 2: I considered trying the rivers for Stylurus but we had checked a couple of access points the previous day and found the waters too high. Finding adult Stylurus is hard enough but there was very little access to the river banks and wading the flood was impossible. The weather was also deteriorating. I didn't know what to do so I joined Pam and a couple of others at Kingston State Park were we aimed to get the township odonate list up to 75. We almost got there, adding a few new damselflies. Most exciting was a tandem pair of spreadwings, that we thought might be Southern Spreadwing, Lestes australis. Male Southern Spreadwings are a bit difficult to separate from Sweetflag Spreadwing, Lestes forcipatus but the females of the two species are easy to tell apart. The female Sweetflag has a notably large ovipositor. Our female had a small ovipositor so putting the clues together suggested that they were Southern. I took them home for confirmation since they would represent a new State record. However upon closer examination, the male appears to be a Sweetflag Spreadwing while the female seems to be a Slender Spreadwing, Lestes rectangularis. Mistaken identity all around.

Aug 3 - 8: I spent the next few days on Cape Cod. I suggested that Anne and the kids come up Monday instead of Tuesday as we had previously planned so we have an extra day on the beach. I did get out one day to look for dragonflies. I tried Run Pond in Dennis for a female Martha's Pennant, Celithemis martha. It was a bit cloudy when I got to the pond and I didn't even see any male Martha's Pennants that usually are common here. I also hoped for Saffron-winged Meadowhawk, Sympetrum costiferum which I had seen 4 or 5 years ago at the pond but none since. As I headed back towards the car I walked along a powerline cut near the road. There were meadowhawks in the brush and I sampled a few which were Ruby Meadowhawk, Sympetrum rubicundulum. I found couple of male Martha's Pennants as well. They were immature so that might explain why none were at the water. Then I found a young female Martha's making the day a success after all.