Subj: June 26 - July 1 in Maine

For a little variety I asked Kristine Wallstrom if she could write a short account of our recent trip to Maine. She is president of the NY chapter of NABA (North American Butterfly Association) and enjoys observing, identifying, and photographing all manner of flora and fauna, from wildflowers to birds to tiger beetles.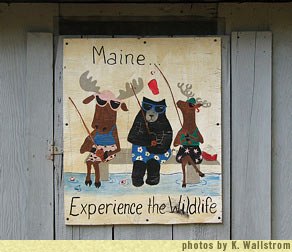 Tuesday, June 26
Tom Fiore and I, Kristine Wallstrom, provided company and help with driving and directions in Ed Lam's quest for northern dragonflies, mainly the Somatochloras, the Striped Emeralds, and the Ophiogomphids, the Snaketails. The 7 hour drive to Lincoln, Maine from my apartment in the Bronx didn't seem that long with shared driving, the excitement of the hunt, new places and new odes. In fact, after checking into a motel in Lincoln that would be our base for the next 6 days, we had time to locate the gravel road bordering the 1000 Acre Heath that held Somatochlora promise, and waded into the Penobscot River after 7pm hoping for more than the Didymops, Basiaeschnas, and Macromias that were still coursing up and downstream. After Tom and Ed each netted a
couple of Neurocordulia yamaskanensis, Ed caught a male of the smaller and sought after N. michaeli. Success!

Kristine omitted the part where I got the car stuck in the mud on the way to the 1000 Acre Heath. The shoulder looked deceptively dry as I steered to avoid a couple of large rocks in middle of the dirt road. It was hot dirty work but we dug ourselves out again. Broad-tailed Shadowdragon, Neurocordulia michaeli was one of my primary targets so despite our long and exhausting day,we had to take advantage of the warm temperatures and try for them at dusk. The Stygian Shadowdragon, N. yamaskensis was the more conspicuous of the two Neurocordulia species on the river. They flew faster, and often over calmer stretches of water making them easier to see than the michaeli, which flew over the riffles. Michaeli flew slower and it surprised me when one seemed to float slowly upwards at me and I caught him chest high. With michaeli I have seen every shadowdragon species this year and only failed to collect N. molesta.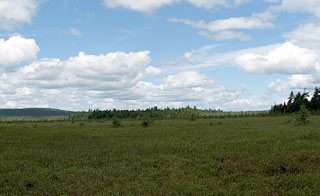 1000 Acre Heath, Penobscot Co. ME
Wednesday, June 27
We're back on Weir Pond Road bordering the heath this morning, hoping for a good Somatochlora catch, but notice very few Emeralds flying, quite a difference from Blair Nikula's report of hundreds of Baskettails flying overhead in his 1999 and 2002(?) trips, reported in Argia. Same place, different year and conditions... today there are precious few. We spend all day with these challenging Striped Emeralds, patrolling only occasionally amongst the more common American Emeralds and abundant Racquet-tailed Emeralds. Today is hard work! We walk/drive to a river at the end of the road and on the return, later in the afternoon there are a few more Emeralds flying. Ed manages to net S. brevicincta, S. kennedyi, and S. minor.

We're back to the Penobscot River in the evening, this time having eaten first (when restaurants are still open) and with insect repellant! It's after 8pm and things are flying in beautiful evening light. I manage to net-rescue a N. yamaskanensis that was stunned by a leaping fish and was floating downstream with the current. Placed on vegetation, it whirred itself dry. Just as it was getting too dark to see well, Ed scoops up a female N. michaeli. A great ending to a long day.
My itinerary was drawn from the previous travels and discoveries of Paul Brunelle and Blair Nikula. Blair had detailed a couple of trips to the region in the DSA publication, Argia, and what he found was essentially my target list. The rarest emerald they found was Quebec Emerald, Somatochlora brevicincta. The male and female netted by Jeremiah Trimble in 1999 were the first U.S. records of this species. I hoped for but did not expect to find it myself but caught a male feeding back and forth along the road at 1000 Acre Heath. In addition to the Emeralds Kristine listed above we also caught S. walshi (Brush-tipped), S. franklini (Delicate), and S. forcipata (Forcipate). It was a beautiful evening on the Penobscot except for the lightning in the distance. Not exactly what you want to see while wading in water, holding a metal net pole, and underneath a powerline stretching over the river.

Thursday, June 28
We decide to head north and west to a site for Lanthus parvulus, Northern Pygmy Clubtail, and Tom and I think the gravel road out of Crystal Station not far from the clubtail site, with bog on one side and wetlands on the other might have patrolling Emeralds. Tom nets a female Lanthus at the Hale Brook site where Calopteryx aequabilis and amata, River and Superb Jewelwings are also flying. The gravel road at Crystal Bog and the RR tracks are a big disappointment and a waste of 2 - 3 hours. But it's so beautiful here I say lamely, I'm not here for the scenery says Ed! This is a time, travel, and money consuming quest. Ed vows only to go to known places with good directions for species known to fly there. I understand; in this case, time is money! Returning to Hale Brook, our spirits are lifted when Ed catches a male Lanthus parvulus.
Weather had a lot to do with us heading north that day. We had hoped for sunnier conditions as the hot and humid weather had been replaced by cool temperatures and clouds, conditions not favorable to dragonfly hunting.
For this project I need to find too many species and my schedule does not allow much time to explore new localities. I'm looking for the surest bets as possible, going where a species has been found, hopefully recently and with some frequency.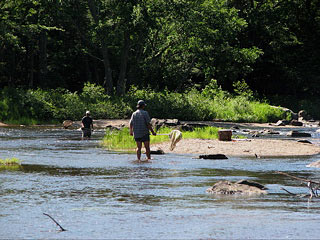 Machias River
Friday, June 29
There's more consistent sun today, but quite windy. We decide to drive south to the Machias River and hope for better luck with the Ophiogomphids - howei and anomalus in particular, than we had with the Somatochloras. It seems too early in the day for the wide Machias, so we try another site where a small stream flows into the river. Here we have some tantalizing sightings of a small snaketail flying, swerving, and going high up in trees, quite unapproachable. Many Macromia illinoisensis are cruising up and downstream, so I decide to practice swinging my net as I don't have a photo of this handsome River Cruiser.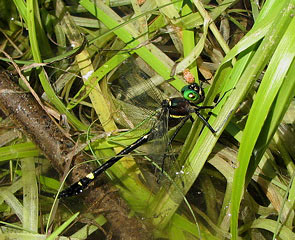 Illinois River Cruiser
Hoping for more Snaketails flying on the Machias River at the campground now that it's afternoon, we're not disappointed. Ed catches male and female Ophiogomphus anomalus, Tom nets a Helocordulia uhleri, and finally a male O. howei is Ed's prize. What a perfect little green creature! Such a beautiful little feisty thing! This was the only time that I found collecting painful (I wanted to open the bag!). Occasionally, a female howei would come down from the trees and dip a few times, then shoot right back up and out of sight.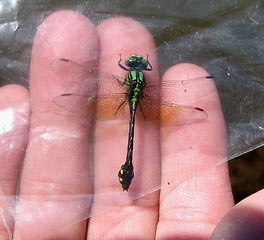 Pygmy Snaketail
The Pygmy Snaketail, Ophiogomphus howei was high on my list of things to see. Earlier in the day I thought I saw some small snaketails flying on the river. Not able to catch any I wondered if it was just wishful thinking. Size is so deceptive in the field and there were plenty of "full"-sized Snaketails, mostly Brook, O. aspersus at that spot, and Tom had caught a Maine, O. mainensis nearby. When we returned to the campground area, numerous snaketails were flying over the riffles but not perching on any of the rocks. I had seen them here earlier in the day but did not catch any. I waded out and finally managed to net one which turned out to be O. anomalus, Extra-striped Snaketail. But there! That one looked smaller. Was it just my imagination or the light? One worked its way upstream and I pancaked the net on him. Even through the wet dark mesh of the net I could see the amber wing bases of the Pygmy.

Saturday, June 30
Back to the road bordering the 1000 Acre Heath, the weather is cooler and more clouds than sun doesn't make it any easier to find and catch Emeralds. Today there are more Somatochlora walshii, Brush-tipped Emeralds, than 2 days ago. But I'm beginning to have a feverish Somatochlora blur, where I can no longer distinguish the ones new to me - franklini, kennedyi, brevicincta, minor, williamsoni. I would need to have them in the hand with the manual and make my own comparisons.
The open heath is vast and beautiful in its monotony. Four-spotted Skimmers perch commonly, but little else was flying in the open heath when we were there.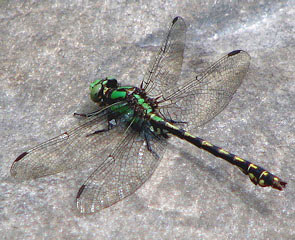 Riffle Snaketail
Sunday, July 1
More cool and breezy weather, clouds and only intermittent sun while stopping at several sites along rivers hoping to find O. carolus, Riffle Snaketail. Walking along the banks of the Piscataquis River doesn't seem promising weather-wise, but we stir up a Milbert's tortoiseshell, I catch O. rupinsulensis wishing it was carolus, and Ed does in fact! He nets a male and female carolus in the vegetated river bank while it's still too cool for flying. Today's mission accomplished and it's only 10:30! We return to the motel and check out, stopping at Oak Bog on the way south, which we don't find but find S. elongata and Gomphus borealis while looking, and pass a fabulous yard littered with welded prehistoric creatures, concluding a wonderful trip with many ode lessons along the way.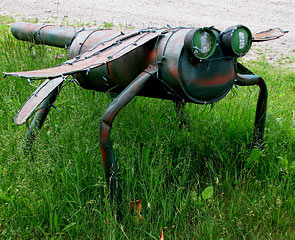 With those green eyes, must be some kind of emerald
Thanks to Kristine Wallstrom and Tom Fiore for their help and companionship on this 1700 mile trip. Many thanks to Blair Nikula for all his assistance, advice and directions.