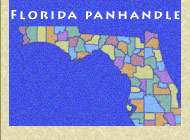 Florida Panhandle
July 8 - 13, 2009

Wednesday, July 8: A week after visiting New Brunswick, my compass swung 180 degrees towards the Florida Panhandle. I've made a similar trip in 2007 and the species I would be seeking are the same. But two years ago I found only males of some of the species and just females of a couple of others. When I heard that Jerrell Daigle, Dennis Paulson and others were planning this trip, I had enough holes in my list to fill to make a return visit worthwhile. After a three hour delay in Atlanta I flew into Tallahassee late in the afternoon, not too late to rendezvous with the others and to look for emeralds, Somatochlora on Whittle Road in Liberty Co.

Thursday, July 9: Our gang of five, Dennis Paulson, Steve Krotzer, Marion Dobbs, Jerrell Daigle and myself, returned to Whittle Road in the morning. We didn't see any emeralds the previous evening but the morning is usually the best time for them. Two years ago I spent four days tracing this dirt road, saw perhaps a dozen emeralds and catching only one, a female Calvert's Emerald, Somatochlora calverti. This morning we multiplied my previous catch several times over, catching male Calvert's as they flew up and down the road. At first only Jerrell and Steve managed to catch them. It took me a while to get used to the speed of the emeralds' flight before I managed to net one of my own.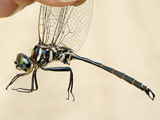 Calvert's Emerald

Later a larger emerald flew over our heads. It was a female Fine-lined Emerald, Somatoclora filosa identifiable by her size and her darkened wing-tips. Being another one of my targets, I took off running after her as she flew high and straight down the road. Running after a dragonfly rarely works, an act of desperation more than anything else. I ran to get in front of her and as I did, another emerald suddenly appeared and flew at her. She dipped lower during the engagement providing an opportunity for me to reach her. I did not miss. Two targets in one morning!

In the afternoon we headed to Juniper Creek along Highway 20 where we were hoping to find Yellow-sided Clubtail, Stylurus potulentus. We spotted a couple along the roadside but they quickly disappeared into the woods before being photographed. With permission we spend some time on private land adjacent to the creek, found mostly common pond species but enjoyed the pitcher plants and sundews in a small bog on the property. Before leaving we decided to try the roadside again and were delighted that several Yellow-sided Clubtails had returned. Dennis, Marion, and Steve got busy photographing them. Two years ago I found Yellow-sided Clubtails while wading a pretty little sandy-bottomed creek and was struck by their beautiful yellow coloration and their bright blue eyes. Seeing the species again was a real treat but finding them common along a busy highway kind of spoiled some of their mystique.

Later in the afternoon we tried Sweetwater Creek in Liberty Co. for Laura's Clubtail, Stylurus laurae. We waited but found none. Although we would hope for them at other sites during the trip we all missed this target.

Friday, July 10 or Steve Krotzer Day: We headed west to Okaloosa County, hoping for Towne's Clubtail, Stylurus townesi, Belle's Sanddragon, Progomphus bellei, Southeastern Spinylegs, Dromogomphus armatus, and other species. I needed a female Spinylegs, Steve found two along a powerline cut in the morning. I needed a male Towne's Clubtail, Steve found two of those while wading the Blackwater River in the afternoon. Another day, two more targets. Fantastic. I bought dinner and beer for Steve. If he finds me a couple of more species he'll get the dedication page.

Saturday, July 11: In the morning we tried to find dragonflies to photograph at Eglin Air Force base. We tried a spot known for Belle's Sanddragon (all hoping to find a female) but didn't find very much. Our next stop was a shallow open pond where we saw quite a lot flying. Blazing Comet Darners, Anax longipes, flashy Golden-winged Skimmers, Libellula auripennis, and tiny Little Blue Dragonlets, Erythrodiplax minuscula were common. Dennis and Marion focused their attention and lenses on some spreadwing damselflies, Lestes. Although there were few individuals they found three species including the first Florida State record of Rainpool Spreadwing, Lestes forficula which Dennis found and identified. This species is found in the US primarily in Texas but ranges a bit north into Oklahoma and west to Arizona. Since we didn't have a collecting permit for Eglin, we photographed it extensively and later, Jerrell found another male.

In the afternoon we went looking for more Southeastern Spinylegs and Towne's Clubtails revisiting some of the spots where we had them the day before. But luck was not with us. We saw a couple of Towne's Clubtails but failed to find any that we could get anywhere near enough for a photograph.

Sunday, July 12: We met Ed Keppner at the Econfina River in Bay County. Ed has been surveying dragonflies for a couple of years and had permission to access gated water management lands where we hoped to find Purple Skimmer, Libellula jesseana. This species is as rare as it is beautiful. Found only in Florida, it's known habitat is infertile sand-bottomed ponds with sparse vegetation. Ed led us to a couple of ponds, indeed sand-bottomed, but with a good deal of emergent and shoreline vegetation. Yet we found lots of Purple Skimmers, mature males claiming short stretches of shoreline and immature males in the surrounding vegetation.

Finding females was our primary goal and we may have saw some without being aware of it. Females apparently come in two flavors, one yellowish and identical to Golden-winged Skimmer (also common around the ponds), and a purple version similar to the male. We hoped to find purple females but came up empty. (Dennis stayed on another day after the group dispersed and found what he described as the "motherlode" of Purple Skimmers in Lake County and managed to photograph and collect females. This population also seemed to be from a vegetated pond so a reassessment of the species' habitat requirements is in order.)
While searching one of the ponds, Jerrell and Dennis got a glimpse of a small dragonfly that was likely a tropical dasher, Micrathyria. There are a couple of species in the genus known in south Florida but none had been found as far north as the panhandle. The species they thought it was most likely to be was Spot-tailed Dasher, Micrathyria aequalis. Despite searching high and low it could not be relocated.

Later Ed led us area where he had recently discovered a population of Everglades Sprite, Nehalennia pallidula. Known primarily from south Florida and the peninsula, its' discovery in the panhandle was a surprise. We found plenty and although they weren't dragonflies, they were a joy to observe and photograph.

Late in the afternoon, Jerrell and I headed back to Sweetwater Creek in Liberty Co. hoping to find Alabama Shadowdragon, Neurocordulia alabamensis. Two years ago I caught a male there so I was hoping for a chance at a female. We waited until well past sunset, mayflies danced just as they did before but we saw no shadowdragons.

Monday, July 13: Last day. We tried Whittle Road in the morning. We harbored slim hopes for Coppery Emerald, Somatochlora georgiana which Jerrell has seen only a couple of times here over many, many years. This is one of those phantom species that I greatly desire to see someday. We caught a couple of Calvert's Emeralds, saw a Fine-lined Emerald or two, and a probable Treetop Emerald, Somatochlora provocans but the morning quickly grew hot and the dragonflies scarce.

We headed back towards Tallahassee, checking a couple of sites for Belle's Sanddragon. I still needed (what else?) a female. At Silver Lake we saw a male by the water and chased another sanddragon in the woods. It got away before I could get close enough to see what sex it was or catch it. At Lost Lake in Tallahassee we didn't even see males which was a bit of a surprise. I did get a consolation prize, catching a couple of female Comet Darners. I packed them carefully to take home on the plane. I would have to scan them that night. My connection was delayed an hour in Atlanta and I was lucky to get home at 1:30AM.