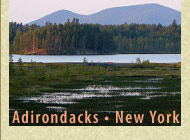 Adirondack Mountains, New York
September 2 - 4, 2009

Over the last few weeks I had been getting intriguing reports from a small band of dragonfly watchers in the Adirondack Mountains. Reports of interesting species, species I needed, species I have not seen. However I had been on the road to New Brunswick and Iowa and didn't think I would have the chance to get to upstate New York. But with good weather in the forecast, I decided to make what is likely my last collecting trip of the year. Sheila and Lew Rosenberg were heading to the Adirondacks a few days before Labor day. They offered a tour of their dragonfly hotspots and a bed in their boathouse on Spitfire Lake.




Spitfire Lake from the boathouse (click for larger image)

Wednesday, September 2: I told Sheila I would get to their house at 11 am. Pulling into the driveway, I was three minutes late, not bad after a 5+ hour drive. There I was introduced to their friend, Ted Mack and we all piled into Sheila and Lew's car to head for Quebec Brook where were hoping for Zebra Clubtail, Stylurus scudderi.

This species was promised to be a sure thing. Sheila, Ted and Linda (Stick) LaPan had been seeing them regularly throughout August. But it had gotten cooler recently and looking down from the bridge, there were no Zebra Clubtails perched on the usual rocks. We all stepped into the water and waited. Ted and I tried working downstream but were hampered by large rocks and submerged logs and brush. We couldn't get very far. Then we heard Sheila yelling to us from the upstream side of the bridge. A male Zebra Clubtail had flown in and landed on the rim of her net. The white net probably made an attractive perch for the dragonfly to sun itself on. Sheila couldn't figure out what to do to try to catch it and by time Ted and I managed to stumble our way to her, the dragonfly had flown. But at least we knew they were still around.

Back on the other side of the bridge, I saw a clubtail land on a rock. It was a Zebra but it flew before I could get very close. A little while later another flew in. It kept flying around the base of the bridge and seemed to want to land. The bridge was warm in the full sun but only offered a vertical perch. Finally the dragonfly landed on a nearby rock. I slowly waded over then clapped the net down on one of the most distinctive and prettiest of dragonflies.

We moved on to Indian Rock Pond, a bog-edged lake to look for Lake Darner, Aeshna eremita. There was a lot of activity at the lake with dozens of darners flying along its edges. We caught Variable Darner, Aeshna interrupta and Canada Darner, Aeshna canadensis but the most common species was Black-tipped Darner, Aeshna tuberculifera. I netted the first Lake Darner. It was noticeably larger than the others and after a while I could almost pick them out in flight. We caught several more, all males and noted that their lateral thoracic stripes varied in pattern and in color. I then concentrated on finding a female and tried to catch every ovipositing dragonfly. Except for a lone Variable, all we netted were Black-tipped. After a couple of hours we left the lake, hoping to find females feeding along the road. However it had gotten late and with the road mostly shaded, we only caught Shadow Darners, Aeshna umbrosa.

Thursday, September 3: Sheila and Lew have their own bog behind their house so when it warmed up we started there in the morning. The target was a female Frosted Whiteface, Leucorrhinia frigida but I quickly spotted a male Saffron-winged Meadowhawk, Sympetrum costiferum, netted him, then started looking for a female of that species. We quickly caught a couple, the females' wings still retaining some of the amber coloration that the species is named for. There were a couple of other sympetrum species present, Autumn Meadowhawk, Sympetrum vicinum near the woods, and White-faced Meadowhawk, Sympetrum obstrusum near open water. Canada Darners patrolled in abundance over the shoreline vegetation but the Frosted Whitefaces were gone, done for the year.

In the afternoon we drove to the Chubb River near the town of Lake Placid. This is where Ted caught a male Lake Emerald, Somatochlora cingulata a couple of weeks back and it is also a good site for Black Meadowhawk, Sympetrum danae. The meadowhawks were plentiful but emeralds were scarce although Ted did see one Lake Emerald and a male Ski-tipped Emerald, Somatochlora elongata was netted.

We then drove to the Ausable River. I wanted another shot at a female Zebra Clubtail and held the faintest hope of finding Boreal Snaketail, Ophiogomphus colubrinus. The snaketail had been collected on the Ausable but not in many years. I had tried on this same stretch of river last summer and the New York State odonate survey made an attempt to find them this year without success. Stick had seen a snaketail here a week or more ago but it was late in the year for an Ophiogomphus.

The river was rocky and wading was slow. At first the only dragonflies we saw were Fawn Darners, Boyeria vinosa, large brown dragonflies flitting along the banks and around stones. Squinting into the low sun, we saw a couple of Zebra Clubtails perched on rocks in the river. They were wary and didn't allow for close approach, flying quickly away and disappearing against the rippling water. I finally netted one. Another male. Stick and I continued down the river until we were across from the Olympic ski jump. There I saw another small clubtail, too small for a Zebra, but it flushed away unidentified.

Friday, September 4: With Sheila and Lew, I took another look at their bog. I looked for more Saffron-winged Meadowhawks, trying to find a younger male that would still have his amber wing stripes. I didn't find any, the season was too advanced. By the open water, I paused to take a photo of a mature male Calico Pennant, Celithemis elisa an unexpected species in a bog. Just like me, it was a little worn.

A couple of days later, Sheila wrote saying that they had caught a Lake Darner for the first time right by their house. What a great house it is! I am grateful to Sheila and Lew Rosenberg for their friendship and hospitality. Also many thanks to Linda LaPan and Ted Mack.