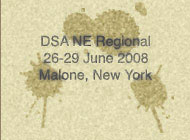 It's a six hour drive from my home in southern New York to the northern Adirondack mountains but I was excited to visit the region again. The last time was a rain-soaked solo backpacking trip I took just after graduating college twenty-two (!) years ago. It rained for three days. I remember wading through thigh deep water to get to the next trail marker and having trouble getting fires started. Miserable and underequipped, I eventually gave up, hiked out to the nearest road, and hitch-hiked to a town where I could catch a bus back to NYC.

Unfortunately the luck I had as a 20 year old is still with me. The meeting was plagued by clouds and rain throughout the weekend. I had only a couple of target species but missed them all.

Friday, June 27: The plan was to split into two groups, one heading north to visit rivers including the St. Lawrence (photo above) and the second to visit some undersurveyed bogs in the mountains to the south. I went north hoping for some riverine species, clubtails and the like. The morning was cloudy and cool and when the sun finally broke through in the afternoon we were on the St Lawrence, a clear and wide river but devoid of any species of interest. At another river the water poured over bare rock, not a place where dragonflies are able to breed. We found very little.

We all gathered in the evening to compare notes. The bog group had a few species but none that I was interested in. I decided I would strike out on my own the next day and aim for one of my target species.

Saturday, June 28: There was some sun in the early morning so I headed west to look for Horned Clubtail Arigomphus cornutus. However when I arrived at one of the sites where it had been found, the clouds were beginning to move in. By 9 AM it began to rain. I tried a second site which habitat-wise looked more promising but then it began to rain even harder. It showed no signs of abating so in the early afternoon I headed back to Malone, my trip a bust.
My criticism of the meeting is that too many of the suggested sites were speculative, under-surveyed locations. Since the organizers of the meeting are connected to the NY State Dragonfly and Damselfly Survey this was to be expected since they wanted these spots checked out. But attendees want to see great, interesting species that these meetings should attempt to find. Of course weather is always a factor, but the best meetings provide expertise, local guidance, and access to locations for significant species that would be difficult for an individual to obtain on their own. The web page for this meeting featured a single photo of a dragonfly. The species: Horned Clubtail. Did the meeting agenda include seeking this species? No, not really. I should say there were dragonflies and damselflies that many of the participants enjoyed seeing, some for the first time. Everybody attends these meetings with different agendas and with different levels of experience. I always enjoy seeing old friends and meeting new dragonfly converts. But progress on this project is my agenda so I'll have to leave it to someone else to write what a good time was had at the meeting.

Sunday, June 29: I hoped but did expect to be able to look for another target Boreal Snaketail Ophiogomphus colubrinus on the way back home. The morning dawned gray and cool so I was in no big hurry to get started. In any case I had to drive through the town of Lake Placid so I would at least stop by and check the Ausable River near the Olympic ski jump. It was still gray when I got there but then there were patches of blue and by noon, lo and behold, there was sun. For three hours I waded the Ausable catching snaketails but almost all of them were Maine Snaketails Ophiogomphus mainensis with a few Brook Snaketails Ophiogomphus aspersus mixed in. After warming up in the sun they got harder to approach, so instead of trying to stalk every last one of them I looked for the dark face stripes that would mark a Boreal. I did find a couple of clubtails with dark face stripes but their bodies were gray making them Mustached Clubtail Gomphus adelphus. Finally the clouds moved back in around 3 PM so I got in the car and headed home.

Trip mileage: 940 miles

I took 5 photos during the meeting, 2 shots of the St Lawrence River and 3 of this Northern Leopard Frog: