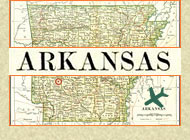 Along the Caddo River, Southwest Arkansas, May 16 - 18, 2007
I was still pretty tired from my last long trip, and admittedly I was less than enthusiastic about flying to Arkansas so soon after getting home. But Arkansas has several specialized and range-restricted species I wanted to see including the newly described Ouachita Spiketail, Cordulegaster talaria and this week George and Phoebe Harp would be in the area. They had conducted a study of the odonata of the Ouachita National Forest in 2002 and hosted last year's Dragonfly Society of the Americas (DSA) southeastern meeting in Glenwood so they knew the area well - always a major asset. The species that they found at the DSA meeting had me kicking myself for not attending but I was hoping to duplicate some of their success.

I landed in Little Rock and drove the eighty miles or so to Glenwood arriving in the late afternoon Wednesday. I wasn't expecting to see the Harps until the next morning but when I pulled in at the motel, there were tell-tale signs of dragonfly hunters: a car with a dragonfly plate on the front and wet shoes outside a door. The fellow at the motel office confirmed that the Harps were there and soon after a knock on the door, we where having chicken-fried steak at a nearby restaurant. Encouragingly, George reported collecting a Ouachita Spiketail and had seen my other main target, Westfall's Snaketail, Ophiogomphus westfalli earlier in the week. With my enthusiasm returning, George and I headed that evening to the Caddo River near Caddo Gap to see if we could see and catch some dusk-flying Shadowdragons, Neurocordulias.
The Caddo is beautiful, clear, gravel-bottom stream. The current can be quite swift in spots but it's generally easy to wade although I could feel each pebble through the thin soles of my water shoes. Arriving on the river a little before 8:PM a few local teens were just concluding their swim and the temperature was getting quite cool. However with some light out, I could see a distinctly orange dragonfly feeding over the water, most likely an Orange Shadowdragon, Neurocordulia xanthosoma. I waded in after it but it kept it's distance, always moving away from me as I tried to approach it. Soon there were a couple more flying but all remained out of reach. We waited near a riffle where we hoped they might swarm but only a few appeared and their flight was very difficult to follow in the dying light over the rippling water. I could better see a few shadowdragons over the calmer portions below the riffle and eventually one came close enough to be netted. It turned out to be a Cinnamon Shadowdragon, Neurocordulia virginiensis, a rarer species than the Orange in Arkansas. It was a male, complementing the female I watched Jerrell Daigle catch in Florida last week.

Thursday, May 17, Caddo River.
The plan was for us to first hit the type locality listed in the original species description for Ouachita Spiketail. This was on private land but George never had trouble gaining permission to access the site. First we waded a half mile down the Caddo to reach a series of fields. Through these fields and the surrounding woodlands ran a couple of small streams that were home to the spiketail but the dragonfly could also be found foraging in the open and it was here that George caught one on Monday. Since it was still cool at 10:AM, we concentrated on walking the fields. We found some clubtails warming up in the morning sun, most turned out to be Ozark Clubtail, Gomphus ozarkensis, but a couple were Pronghorn Clubtails, Gomphus graslinellus. I spotted and caught my first Westfall's Snaketail, a male. It would turn out to be the only individual I would see in three days. As the sun and temperature rose, Common Green Darners, Anax junius, started patrolling.

Across the field near the stream, George whistled for my attention. He just saw a spiketail but it had flown. I rushed over and after a little wait a large dark dragonfly marked with yellow flew by low along the stream. It circled a moment then hung up amid some grass stems in the sun. I stalked it and soon had it in the net.

Having already seen the two main targets of my trip, we tried for another species I have never seen, the Oklahoma Clubtail, Gomphus oklahomensis. An early flying species, we were fortunate to find a few still flying at Caddo Pond. Around the pond were many Calico Pennants, Celithemis elisa, and a few Double-ringed Pennants, Celithemis verna.
Finally we headed to another access point on the Caddo River near Amity where George netted an Orange Shadowdragon perching in the vegetation. Over the next couple of days I would flush them repeatedly, and they were easier to catch this way if I managed to follow where they landed again. With a specimen, I didn't feel compelled to stay out late, a very good thing since I had a lot a dragonflies to scan that night. With a good day in hand after our tour of some good sites, the Harps bid farewell after they dropped me off at the motel.
Friday, May 18, Where are the females?
The rest of the trip was devoted to trying to find females of Ouachita Spiketail and Westfall's Snaketail. I had also hoped that Macromia pacifica was flying but saw none as it was probably a bit too early for them. I returned to the stream for the Spiketail and again walked the fields but found nothing new. I ducked under the tree canopy where the stream was a slow trickle and mucky-bottomed in contrast to the clear-running, rockier portions. After a couple of minutes a male spiketail came by. It's flight was quite typical for a spiketail, following the course of the stream, low, pausing and hovering every few feet before moving forward. I swung but the edge of the net caught mud. A little while later another male came by, followed the stream a bit but then flew up into a tree. It hung up in the sun about 20 feet off the ground. It was too high to net so I just studied it through binoculars until it took off again. Perhaps the same individual again started to patrol the stream, I swung at him and missed.
I waited quite a while and didn't see any more spiketails. It was approaching 1:PM and I had little to show for the day except a male Interior Least Clubtail, Stylogomphus sigmastylus I caught earlier in the field. This species was emerging from the river in numbers and though the male I caught was young, he was more mature than the weak flying tenerals coming off the water.
I set a time limit for this spot. Ten minutes more and then I would try another portion of the stream. Seven or eight minutes ticked by before another spiketail flew in and began laying eggs. Up and down, she trust the tip of her abdomen into the mucky bottom as she moved slowly down the stream. I moved to get into range but she flew. I uttered a curse but spotted her further down the bend, the exact spot that George pointed out as the type locality. I didn't want to lose her by circling around on dry land so I had to just step into the mucky stream to get to her.

On Saturday morning with a few hours to kill before my flight, I revisited the Caddo and searched in vain for another Westfall's Snaketail. A few tents had sprung up overnight along the river, campfire smoke marking another weekend in the Ouachitas.
Species seen:
Common Green Darner, Anax junius
Swamp Darner, Epiaeschna heros
Pronghorn Clubtail, Gomphus graslinellus
Ozark Clubtail, Gomphus ozarkensis
Oklahoma Clubtail, Gomphus oklahomensis
Interior Least Clubtail, Stylogomphus sigmastylus
Black-shouldered Spinyleg, Dromogomphus spinosus
Westfall's Snaketail, Ophiogomphus westfalli
Ouachita Spiketail, Cordulegaster talaria
Twin-spotted Spiketail, Cordulegaster maculata
Slender Baskettail, Epitheca costalis
Cinnamon Shadowdragon, Neurocordulia virginiensis
Orange Shadowdragon, Neurocordulia xanthosoma
Widow Skimmer, Libellula luctuosa
Common Whitetail, Ladona lydia
Blue Corporal, Ladona deplanata
Spangled Skimmer, Libellula cyanea
Great Blue Skimmer, Libellula vibrans
Eastern Amberwing, Perithemis tenera
Blue Dasher, Pachydiplax longipennis
Common Pondhawk, Erythemis simplicicollis
Black Saddlebags, Tramea lacerata
Calico Pennant, Celithemis elisa
Double-ringed Pennant, Celithemis verna
Ebony Jewelwing, Calopteryx maculata
American Rubyspot, Hetaerina americana
Powdered Dancer, Argia moesta
Variable (violet) Dancer, Argia fumipennis violacea
Stream Bluet, Enallagma exsulans

Many thanks to George and Phoebe Harp.